ShihLhasa Luv Puppies Puppy Listings
To list your puppy for free, please
Register
!
For Sale
Price:
$350 USD
Breed:
Miscellaneous
Gender:
Female
Age:
8 Years
Breeder Profile: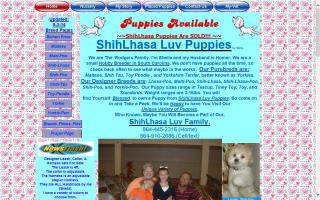 3626 Old Charleston Rd
Ninety Six, SC 29666
(864) 445-2316
(864) 910-2686
We are a small hobby breeder in SC. Our mission is to raise happy, healthy, beautiful puppies. My granddaughters and I play with our puppies every day! Puppies are NOT weaned at an early age. They need all the nutrients Mom can give. Our puppies are fully vet checked & up to date on vaccines and dewormings. When they leave us, they are pre-spoiled - so everyone says. References given upon request.
Region:
Saluda County, South Carolina
Categories:
Maltese Breeders
,
Shih Tzu Breeders
,
Toy Poodle Breeders
,
Yorkshire Terrier Breeders
,
Lhasapoo Breeders
,
Malti-Poo Breeders
,
Shih-Lhasa Breeders
www.shihlhasaluvpuppies.com/
---